Click HERE to go to the new Distingushed Alumni Award Application page.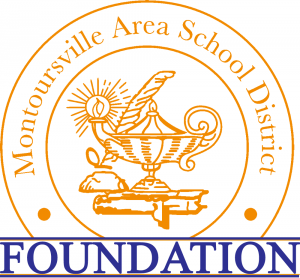 The Foundation's Purpose:
Provide support for educational experiences that foster lifelong interest in learning and community

​

Generate and promote funding to enhance the educational 

experience of our students

​

Provide otherwise unfunded opportunities for the students 

served by The Montoursville Area School District

​
Objectives of the Foundation:
Promote student development through enriching programs 

and activities

​

Medical Career Program

​

Theatre Arts Program

​

Receive, Raise and Administer Funds outside of traditional 

school funding system to reinforce and supplement the goals 

of the Montoursville Area School District

​

STEM Initiative

​

Technology for Classrooms

​

Playground Equipment
---
​Venture Grants for Teachers
The

Foundation

rewards the creation of exciting and innovative 

educational ideas.  Venture Grants are awarded on a competitive 

basis to enable unique teaching strategies

​

Easy application

​

$500 Grant

​

Fast turn-around time

​

Great for smaller projects that need a little extra funding!

Please use this link for the grant application:  Venture Grant Application
Examples:
Mrs. Breon – Animal Life Cycle Project​

The first-grade students at 

Lyter

 Elementary 

started a project on life cycles, by incubating 

and hatching chicken eggs.  

​
The

Foundation

provided funding for an

incubator, candling equipment, nesting 

boxes, and a chick brooder.  Students were 

involved in the entire process and 

understand the importance of 

animal care, farming,

and egg production.
  Mrs. Fortin – Pond Study: Montour Preserve
An outdoor adventure field trip to Montour Preserve where 3

rd

 

grade students learned about Birds of Prey, local history of 

waterways, and about nature through a Nature Walk using 

their senses. In addition, students dug for fossils in the fossil pit

and took part in a Pond Study investigation in

which they collected and identified a variety of

macroinvertebrates and other aquatic critters found in a 

pond ecosystem.  

​
The

Foundation

provided nets and collection basins for teams

of students to use to "scoop" and  collect

samples from the pond to study and

identify using macroinvertebrate charts.
Please view this video: MASD Foundation Video for Teachers​
Educator in Residence
The objective is to bring valuable people into the classrooms of the Montoursville Area School District Foundation, where they can share their expertise with students, staff, and in some cases, members of the community.
---
Members
Michael Musto (President)      Susan Harvey (Secretary)       Jessica Knittle (Treasurer)                                                                                         Alex Witter       Andrea Bower       Dan Asiello                 
School District Members
Daniel Taormina       Jessica Breon       Megan Altebrando
School District Board Director
David Young
How Can You Contribute?
Contributions in any amount will benefit the charitable goals of the Montoursville Area School District Foundation. Gifts may be made using a variety of methods, with some of the most popular including:
Monetary Donations via mail (Cash/Checks) or PayPal (credit card, see "Donate" link below)

Bequests via wills or living trusts

Gifts of appreciated assets (stocks, bonds, etc.)
We also welcome you to donate annually.
Sponsorship Levels Below:
WARRIOR SPONSOR $5,000

GOLD SPONSOR $2,500

BLUE SPONSOR $1,000

COMMUNITY SPONSOR $500
The Montoursville Area School District Foundation is a non-profit 501(c)(3) organization. Contributions may be tax deductible. For more information on tax exempt organizations, please consult your tax adviser.
Join the MASD Foundation!
To inquire about volunteer opportunities within our organization, please email us at: masdf@montoursville.k12.pa.us
Opportunities include, but are not limited to:
Fundraising Event Volunteers

Event Planning

Board Membership
Question?  Contact Us
MASDF PO Box 235 Montoursville, PA 17754
E-mail: masdf@montoursville.k12.pa.us
www.facebook.com/MASDFoundation/
www.montoursville.k12.pa.us/foundation