The Warrior football team closed out its season on Saturday, Nov. 5. A team led by 13 hard-working, dedicated, and talented seniors. Not only did they play for each other, they played for head coach Mike Boughton. 
At the beginning of the season Boughton was diagnosed with cancer, putting him out of the coaching position for the rest of the season. However, that did not stop him from coming to games. Boughton tried to come to as many games as possible; not only coming but giving a speech or talking with his players. 
"Coach Boughton is fighting for his life and we just want to fight on this field and get wins for him on this turf," said senior Matthew Conklin in an interview for The Express.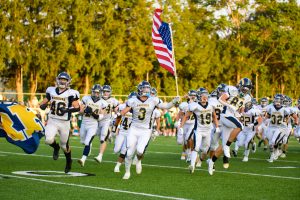 The Warriors started off the first five games 4-1. They beat Wellsboro 21-14, Lewisburg 24-21, and Bald Eagle Area 26-21 all on their home field: where it meant the most. They also won away at Central Columbia, 35-21. With only one lost against Troy in between that route.
"It (going 4-1) gave us a ton of confidence looking into the second half of the season. We gave Southern Columbia all we had and were winning with a couple minutes left in the third quarter," said Conklin.
The rest of the season was a tough road, losing five straight games to some of Pennsylvania's state powerhouses. Those teams being returning state champion, Southern Columbia, undefeated Danville and Jersey Shore. Along with tough squads like Selinsgrove and Loyalsock.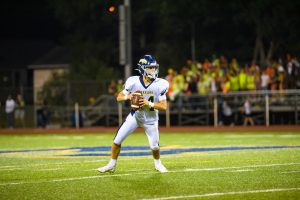 Montoursville went into the district playoffs ranked as the number five seed. This meant they had to play at Athens, the number four seed, in the first round. Montoursville eventually lost the game 37-7 drawing their season to a close.
"Even though our record was negative, I wouldn't want anyone to overlook how much effort we put in the past four years. There were many guys who worked extremely hard and I believe at the end of the day most of us gave the season all we could. I wouldn't have wanted to go out with anyone else besides the seniors I was with, we made memories that will last a lifetime" said Conklin.
This season was special to everyone in the community. From multiple fundraisers to donations toward Boughton, to the ongoing support from players, students, and fans. The whole season, everyone can agree, is dedicated to Mike Boughton and all he did.
Sadly, Mike Boughton passed away on November 15, 2022.