Many Montoursville Area High School clubs participated in this year's Fall Festival run by Montoursville Kiwanis on Sept. 23 and 24 in Indian Park, Montoursville to help raise funds for charitable giving.
Rho Kappa, Mock Trial, Farmers For America, and Key Club all contributed this year through a variety of game stands, food stands, and directing parking. 
"This year at the Fall Festival was the best year we have had with profits," said Julie Quick.
Rho Kappa is relatively new to the festival, having only run the Dime Pitch stand for the past five years. Mrs. Julie Quick, the adviser of Rho Kappa and a board member of its partner, the General John Burrows Society, said that this year was busier than the previous, as they almost ran out of glassware.
Senior Christian Smith, student and president of Rho Kappa, agreed, describing his time volunteering there as "quite profitable," having alone collected $120 in two and a half hours. All of the money raised goes toward the Burrows Society to fund its expenses and projects.
Rho Kappa was not the only stand that profited, as many others sold unprecedented amounts of food and prizes.
Mrs. Andrea Tira, a member of the Kiwanis Club and adviser to Key Club, was proud to state that this year was one of the busiest that she had seen in her seven years of working at the festival. This being only the second festival after the one canceled by Covid, the public seemed eager to share in the festivities and enjoy the Fall Festival.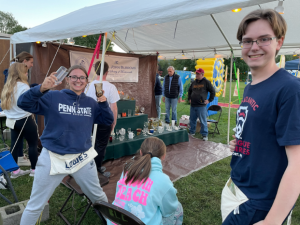 "Almost every stand ran out of food by the end of the night," said  Tira, "I was glad to see everyone come out in full force after Covid."
Featured Photo: Senior Melissa Reeder sings the National Anthem at the opening of the Fall Festival. She sang at 5:00 pm Friday the 23rd before other local bands performed a variety of songs.