The game came down to less than 30 seconds.
The Warriors were down 17-21 against Lewisburg, and they needed a touchdown to win the game. Victory was on the line and the Warriors were not going to give up. They were going to do what it took to win this game, not only for their team but for Coach Boughton as well. 
Senior  Ben Conrad said, "I saw Bryce scrambling toward me so I knew it was my job to find an opening for him to throw. When he saw me and he threw it to me I knew right there that we were going to win that game because I knew I could count on him to make a great throw and I knew I was going to catch it too."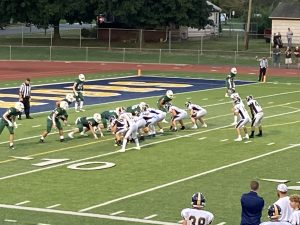 With about seven seconds left Conrad caught the ball to secure the touchdown and the win. The final score was 24-21. The people on the field along with those in the stands, dressed in white for Coach Mike Boughton, who was recently diagnosed with lung cancer, were celebrating the exciting win that the Warriors secured.
Before the game, the band and colorguard performed. 
Junior color guard member, Kayla LeFever said, "This performance was different from the rest because instead of wearing our normal band uniforms, we bought and wore Warrior Strong white out shirts to show our love and support for Coach Boughton."  
Senior band member Randi McKenna said, "It just made the night more important for us to show our pride in our school and show the impact Coach Boughton had on our school spirit." 
Coach Boughton's preseason diagnosis has greatly impacted the team and also the community.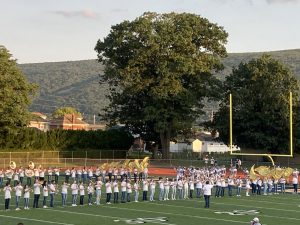 When asked about his initial reaction when he heard the news about Boughton, junior kicker Wyatt Fry said, "Devastating. He's a huge part of Montoursville Football and a huge role model for the team. He builds great trust in the relationships he has with his team and everyone else." 
Senior James Batkowski also spoke of Coach Boughton's positive influence on the team.
"He is a coach that wants the best for the team. He knows a lot about the sport and sets the tone in practices and before games," he said.
People in the community stepped in to help Coach Boughton. Social Studies teacher and football team statistician, Mr. Richard DeLong is doing a walk for Boughton to fundraise money for him. DeLong is not the only person stepping in to help out Boughton, there are also many more in the community who are helping to fundraise money.
 DeLong said, "Here in Montoursville we look out for each other." Delong and others show this by their generosity in fundraising. DeLong made it clear that it is not about the people doing it but the person who they are doing it for. 
Another who stepped in to help was McCall social studies teacher and varsity football coach Mr. Joseph Hanna. 
Interim coach Hanna said, "I took over as interim coach because I have been an assistant football coach for over twenty years and work as a teacher in the middle school in Montoursville so I was the best fit for taking over the position at this time. It has been a pleasure working with the current football team. I have added responsibilities as the acting head coach but the coaching aspect of it hasn't changed. My assistants have done a great job teaching the guys how to do things the right way on the football field. We are looking to get better each day in practice and carry it over into the games at the Varsity and JV levels."
When asked about the white-out game, senior cheerleader Gabrielle Shearer said, "The student section was the difference as they are always a very strong presence at home games, but they really brought it for the White-Out game and Coach Boughton. The close score kept us all engaged. Brianna Trueman dressed up as Moses and a group of upperclassmen boys even painted themselves white. This game had a special meaning and we all made it one to remember."
Featured Photo: Cheerleaders hold the banner for the football players to run through. Senior Marco Pulizzi carried the American flag through the tunnel on Friday night.