On April 9 the top two athletes in each event went to Mount Carmel to participate in the 2021 Breslin Track and Field invitational.
The day started with the athletes leaving school at 11:30am to get to Mount Carmel for the start of the meet at 2pm. When the athletes got there, they all got to work to start getting ready for their individual events. 
The hard work that the athletes put in throughout the winter paid off, as the day was an overall success. The girls' team placed tenth and the boys' team placed sixth
Not only did the team score well, but 13 individuals placed in the top six which were awarded a ribbon, and the top three were given a medal. 
"The athletes all exceeded my expectations. They all did really well and I felt it was a really good day for Montoursville Track and Field," said Head Coach Sean Walker. 
The day also pushed athletes to be the best they could be, which led to many Personal Records (PRs).
"I PRed in all of my events, but I didn't place but I am still happy with the results," said Senior Erin Witter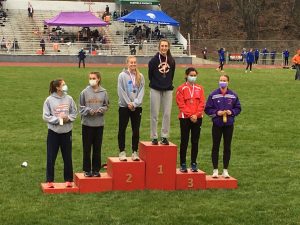 Junior Lily Saul had a phenomenal day, as she placed first in the 400 meter dash and the 800 meter run, while her 4-by-4 relay team took sixth place.
"It felt amazing to place in all my events because it shows that the work I did this summer is paying off," said Saul.
The event was considered a good experience for all that were involved. 
"It was exciting because that was our first invite of the year, and a lot of underclassmen got to compete for the first time in a large invite which was cool to watch," said Senior Alivia McDonald. 
From a coach's experience, "It was a very good meet to enter to get better, stronger and faster," said Walker.
Despite the day being extremely long and athletes bouncing back and forth from event to event, the team was still able to bond whether it was talking to people they normally wouldn't, supporting each other in the events they were participating in and screaming as loud as they could from across the stadium, taking pictures, or going to Sheetz on the way home at 10:30 to get dinner. 
"My favorite part about the meet being able to hangout with the team and support them in their events, since at a dual meet we usually don't have as much time to watch as many events," said McDonald.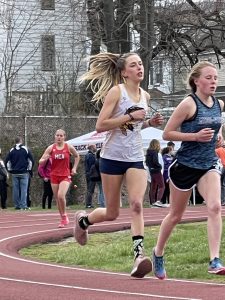 "My favorite part was just hanging out with everyone and taking pictures on my [toy] camera," said Witter.
Walker hopes for the rest of the season, "To be at the top of their level and read for a state run in their events." 
Overall, this meet provided an opportunity for athletes to be able to make goals for themselves for the rest of the season. 
"My goals for the season are just to continue to push myself and hopefully make it to districts," said McDonald. 
"I want to be able to continue to cut time off my 400, and place at states," said Saul.
The team's next invitational is at Shippensburg on Saturday, April 17th.