After the devastating shutdown for last year's Track athletes, all of them are ready to jump back into the competition, ever since March 8th, they've been working hard to succeed.
With the first meet being on April 6th, athletes have been working nonstop to prepare against Milton High School here at our very own Memorial Stadium. Returning coaches such as head coach Sean Walker, and assistant coaches William Jones, Nathan Gilbert, Sadie Kreighbaum, Melissa Badger, Nathan Kimble, and Chad Eberhart, each helping the students reach their full potential. 
Due to COVID restrictions, the Track and Field team are forced to be outside because of Football and Baseball, every now and then the Track team being able to squeeze into the main gym. Nothing stops the track team from training in rain or shine. 
Coach Walker is especially excited for this year's season. "The excitement of seeing and building our great track athletes here at Montoursville… As a Track coach here for the last 5 years it is nice to get back and see the work ethic and determination of our track athletes to become great. This is why I came here 5 years ago and am looking forward to many more."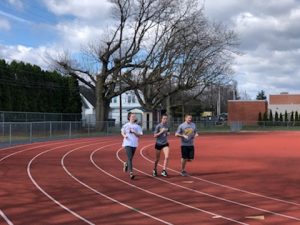 Not only is Walker excited to see the work ethic, but he also plans to broaden the competition for the Warriors, trying to get the Track team up to Harrisburg to face their athletes. Yet, even with big goals, there are the struggles that every coach faces at the beginning of the season.
"Getting our athletes in shape and ready to go. It doesn't help when a lot of our athletes haven't done anything up to this point," Walker said as he explained the challenges he is facing as head coach. "But no worries. We will get there and be ready for a good run at districts and states." 
Walker also overlooks the sprinters of the team, pushing them to be the best that they can be while doing the best they can with preventing injuries. 
"As the head coach for track is it hard to just label it down to specific athletes…" Walker said when asked if anyone truly stood out to him. "…What I see from my standpoint is that everyone is showing promise because if they did not they wouldn't be here. That's the exciting thing about track." 
You can witness the Track team's first meet on April 6, 2021, at 4 pm in Memorial Stadium.