Like many of the clubs at MAHS, the mock trial team had to adapt to a virtual format for the first time.
From the beginning of the year, when the school was still on a hybrid schedule, the mock trial team began working on a practice case in order to help introduce the art of mock trial to the new members.
"I didn't really know a lot about it, so everything was a lot more than I expected," said freshman Elise Beishline, a new recruit this year. Traditionally, the team attends workshops at Penn State, as well as alternating between trips to Harvard and Yale. This year, the students did not have those same opportunities.
"I wasn't even sure if we were going to have a season," said senior Shelby Beltz, a captain. Once the team was able to meet together, the captains stepped up and designed their own workshops in order to explain the basics of mock trial, such as statements, witness examinations, and objections.
The team then spent about six weeks practicing with an old case before the official PA mock trial case was released. It was a civil case in a wrongful death lawsuit regarding a death involving energy drinks, a pre-existing heart condition, and alleged toxic materials. With that, the season had officially begun.
"We had to rely on the existing strengths," said Ms. Earl, mock trial coach. "We didn't really have the chance to build new skill sets this year." With a majority of the team consisting of returning members, most of the students filled roles that they had already done in previous years. The three freshmen recruited to the team were assigned roles more on instinct in order to find their strengths.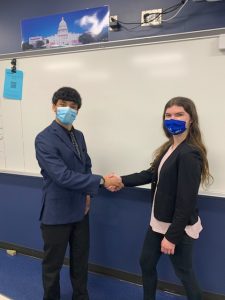 Competitions against other schools were held via Zoom. Despite technical difficulties and severe weather, four MAHS students managed to win awards. Attorney awards went to senior Shelby Betlz and junior Lanie Mussina. Witness awards went to senior Phoenix Boyles and freshman Alexa Tira.
"Alexa was ready to go for whatever position we needed her for," said Earl when asked about seeing Tira win an award as a freshman. Tira was moved into her role just days before competition and received excellent scores from the judges.
Despite not advancing to regionals, the members still are thankful for the way the dedicated participants approached the season.
"I thought [the returning members] were very nice just to answer all of the questions that I had," said Beishline, who has plans to return to the team next year to continue honing her skills.
"We got through it," said Beltz as she addressed the numerous setbacks that plagued her senior season. "I'm very proud of the team."