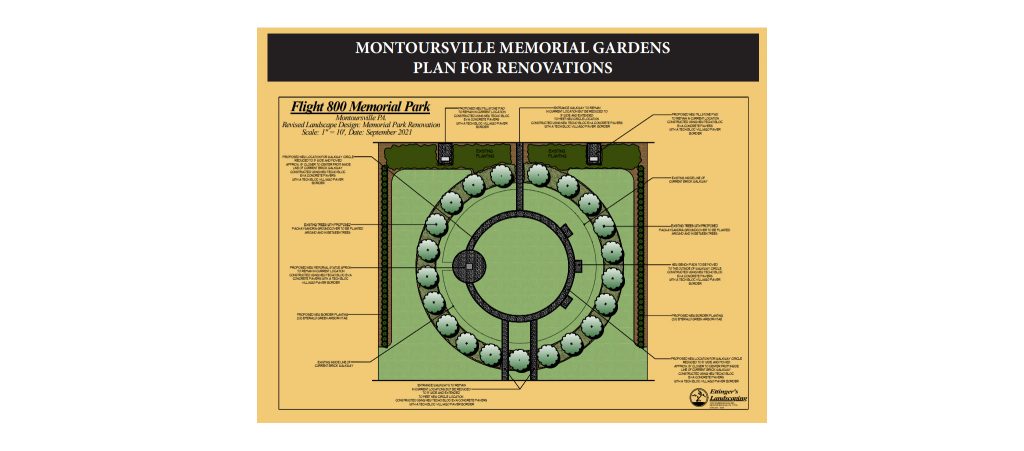 Plan for Renovations
After twenty two years the site is in need of attention. The lawn needs restored.
The maple trees have heaved the brick walk in numerous spots to the point it is a
tripping hazard. There are too many areas to make repair cost effective and even with
repair the condition will continue. The hemlock trees along the east and west property lines
are diseased and dying. They will not survive. Numerous hemlock trees have already been
removed. When they were planted originally in 1999, they were a good choice but not
today. The holly bushes along north and south borders died recently and have been
removed. Major renovations are needed.
The perpetual care committee has met to consider options and plot strategy. We
have enlisted others to assist. Wayne Ettinger has joined us as contractor and consultant.
Ettinger's has offered a plan for proposed renovations. The high points include:
1.Removal of the brick walk and construction of a new walk of concrete pavers. The
walk will be moved inward by about twenty feet to eliminate issues with roots. Cost $79,000.
2. Removal of the hemlock trees along east and west property lines. Replacement with
emerald green arborvitae. These trees will not need pruned and will provide a similar screen
effect. Place river gravel ground cover. Cost $14,900.
3. Removal of the mulch around the maple trees and placement of pachysandra
ground cover. Grass will not grow beneath the maple trees so a permanent ground cover will
be placed. The ground cover will eliminate the cost for mulch on a yearly basis. Cost $28,000.

Total cost for renovations $121,900.

The Perpetual Care Committee has shared the plan for renovations with both the
Montoursville Area School Board of Directors and the Montoursville Borough Council.
Both have approved the plan. We now move forward on a capital campaign to raise funds.
The goal is $200,000 to care for the renovations and fund the perpetual care fund.
You can help reach the goal by sending your donation check made out to the MASD Memorial Fund
and mailed to Montoursville Area School District, 50 North Arch Street, Montoursville, PA 17754.