McCall Library is open for student use until 3:20 PM each school day.  If additional or special hours are needed, please make the request in the Library.  Ms. Laura Green is the Librarian, please contact her with any Library related questions.
Use the following resources to help you with all of your information needs.
Book Fair Oct. 29-Nov. 2 click to go to online fair, preview titles, set up the new e-wallet.
Online Catalog Follett Destiny
Check for books, magazines, movies, audio books, websites, etc.  Renew books, put books on hold – even from your home computer.

The World Book Web is a suite of online research tols that includes encyclopedia articles, primary source collections, educator tools, student activities, pictures, audio, and video, complemented by current periodicals and related web sites.  Stop in the library for home access information.
InfoTrac – Also known as Gale Databases   
Includes: Student Resources in Context and Student Resource Center Junior soon to be replaced with Research in Context.  Use to find full text of magazines, newspapers, reference books, primary source documents, images, audio, video, selected websites, etc.  Excellent resource for a variety of items.  Stop in the library for log-in information.
FactCite Lincoln Library Online 
Includes: Biography for Beginners; Sports Champions; Shapers of Society; US and World Biography; Mythology; American History (including US States, Native Americans, Civil War, and more); Science (including elements, planets, animals, and more); Essential Information (including Countries and Cultures, Literature, Founding Documents, and more).  Stop in the library for username and password.
Great for spelling, vocabulary, definitions and basic foreign language dictionaries.  Use in school with basic link, but stop in the library to see Ms. Green to create an account to use at home.
POWER Library Pennsylvania Online World of Electronic Resources  
                                        Alphabetical list of POWER sources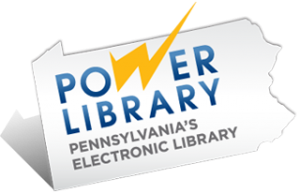 Subject list of POWER sources
A variety of online resouces for leisure or research includes: Access PA, AP Images, Auto Repair Reference Center, BookFLIX, Contemporary Authors, CyberSmarts, EBSCOhost databases, Explora, SIRS Discoverer, etc.  Use your public library link to access from home.