***NEW***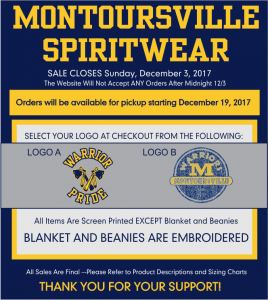 Please support our 4th grade class!  The annual Montour Wear sale held by the 4th graders from Loyalsock Valley Elementary School has started!  Please consider purchasing from the class and help sponsor their last year of activities / field trips at LVE!  New designs and a wider variety of items are available!  These make great Christmas presents!  Orders close on midnight December 3rd and will be available for pick up starting Dec 19th!
You can request an order form from the Loyalsock Valley Elementary office OR click here to order online now!
---
Thank you to all parents, families, and friends that help support our annual fundraisers and events for our children.   Below are just some of the ways you can help support our PTO provide these special events for our children….
Annual Walk-a-thon:
Each Fall we hold our largest fundraiser.   Families are asked to collect pledges from family members, neighbors, friends, co-workers, etc.   Our students will then have a special day to walk laps around our school field to "earn" these pledges.   The donations help our PTO provide the special activities for the students throughout the year.   Look for your child's pledge form to come home in the first two weeks of school.
NEW in 2017
We now have a secure PayPal link so you may use a credit / debit card or PayPal to make an electronic donations to the PTO!  Click on the link below to be directed to the online donation page.  There is a small fee to use online donation links, so please consider adding the fee to your donation. (Each donation transaction will incur a 30¢ + 2.2% fee)
Click here to Donate with PayPal now!
Giant A+ Rewards:
Register your Giant Supermarket BONUSCARD starting on September 15th at Giant! Our Loyalsock Valley's School ID is 20895. Good News!! You no longer have to re-register your bonuscard number each school year. You should check your account online to verify the correct school assignment. You can select up to 2 schools to support, but BOTH schools must be entered at the time of designation (or when initially adding a school); otherwise, the last designation entered will negate any previous designation.
Gift Card Sale
Shop with Scrip provides a fundraising opportunity to help our school.   Family and friends purchase gift cards for use at stores and/or online purchases and the PTO receives a portion of the gift card value.   You still pay the same amount as if you bought the gift card directly from the retailer, but this program provides our PTO with funds from that purchase.  It is a great program for our school!  Look for sale flyers for our sale which takes place between Oct and Dec.
BOX TOPS!
Please clip and collect BOX TOPS throughout the year. Don't forget to ask family members to save them for you too! We have two collection drives this year during the months of November and March. Classes that collect the most Box Tops will earn special rewards!